How much will it cost to build a home?
Our price guide will accurately estimate how much it will cost to construct an entire house. We have included different sizes and types of places to show the amount they will cost you.
How Much Does it Cost to Build a House?
What is the typical cost to construct a home?
The typical cost of building a new home is anywhere between £1750 to £3000 per square meter. For a newly constructed two-bedroom house, the cost would be between £167,000 and £312,000 for the entire structure.
What is the cost to build bigger homes?
The price increases to £214,500-£402,000 for an apartment with three bedrooms, and the range is between £260,000-£489,000 for a house with four bedrooms is £286,000-£537,000 for a place with five bedrooms. Budgeting around £184,500 to £563,000 for the bungalow is recommended.
But what change could affect the cost of the new design?
One of the most significant costs for a new home construction is the quantity of tradesmen hired, the ease of access, and your location. Contractors/laborers tend to charge lower rates than the UK average in regions such as the north of England, Scotland, and Northern Ireland.
However, labor costs are typically the most expensive in the southeast and London.
New Build Prices
Look at the table below for an idea of the typical price to build a home:
House Size
Labour Cost
Supply Costs
Cost of Build

2 Bedroom House

£

27,000 to

£

42,000

£

140,000 to

£

270,000

£

167,000 to

£

312,000

3 Bedroom House

£

36,000 to

£

54,000

£

178,500 to

£

348,000

£

214,500 to

£

402,000

4 Bedroom House

£

43,000 to

£

66,000

£

217,000 to

£

423,000

£

260,000 to

£

489,000

5 Bedroom House

£

48,000 to

£

72,000

£

238,000 to

£

465,000

£

286,000 to

£

537,000

Bungalow

£

27,000 to

£

83,000

£

157,500 to

£

480,000

£

184,500 to

£

563,000
What are the Supply Costs of a New House Build?
This section will break down the cost of supplies only. In the average case, the price of the materials required to construct the house will comprise approximately 80-85% of the total expense, with the labor costs ranging from 15-20 percent overall.
The cost of supplies for building a two-bedroom home is £140,000 to £270,000. Expect supply costs to be about £178,500 to £348,000 for a house with three bedrooms, £217,000 to £423,000 for a place with four bedrooms, or £238,000 to £465,000 for the case of a five-bedroom home. If you want to build a bungalow, the costs for building materials are likely to be between £157,500 and £480,000.
Supply Costs of Building a New House
| | |
| --- | --- |
| Size of House | Supply Costs |
| 2 Bedroom House | £140,000 to £270,000 |
| 3 Bedroom House | £178,500 to £348,000 |
| 4 Bedroom House | £217,000 to £423,000 |
| 5 Bedroom House | £238,000 to £465,000 |
| Bungalow | £157,500 to £480,000 |
What are the Additional Costs of a New House Build?
When you have a new home constructed, numerous additional expenses could be included in the final cost. Let's take a look at a few possibilities.
Minimum Fee
First, when you have a home built, it is possible to pay an unavoidable cost, regardless of the amount or the nature of the construction.
This can be added to the total cost or integrated into the overall. For instance, if you're paid daily, it doesn't matter if the work is completed within two hours of the day or 8 hours in the final on how many days of labor you'll be charged.
Whatever the case, a minimum amount, however, will likely be a minimal cost for such a costly venture.
Size/Type of Property
The size and type of the constructed house are among the most enormous costs. For example, a two-bedroom home construction will probably cost less than £300K, while a five-bedroom home could cost as much as or perhaps over half a million dollars.
Materials
Prices can also differ based on the materials employed. For example, it might be less expensive to Build a House constructed of bamboo, whereas those made with costly stones such as marble or limestone will be more expensive.
Cladding prices can differ significantly in price, with cladding made of timber or concrete block and render cladding priced at £25 up to £35 per m2, whereas the flint or rubber wall cladding will cost you somewhere between £90 to £100 per square meter. In the same way, roofing materials may vary in cost significantly.
Number of Tradespeople
It is a given that the more labor users need to construct a house, the more labor costs will be. The task will be completed with a larger team, building a new place more quickly.
The extent to which this can offset the more expensive labor costs is difficult to determine. In the end, it's all dependent on how the builders collaborate.
Timeframe
Generally, the longer a home is constructed, the more expensive the labor costs will be. If fixed costs are not set in advance, time will not be a significant factor. It's all dependent on the business.
Legal Fees
Regarding legal fees, the typical amount is up to £500 to £1000. They are reflected in the form of stamp duty and tax on land, and the rate is one percent for purchases of land or houses priced between £125,001 and £250,000, and 3% for properties valued between £250,001-£500,000, or 4.4% if the property or purchase is valued above £500,000.
Planning Permission and Building Regulations
In the average, the cost of planning permission can cost you between £300 or £370 for the building of a newly built home and building regulations fees being around £500 up to £1000. Consult the local authority if you're unsure of the approval of the planning permission process or building regulations.
Topographical Site Survey
If possible, you must conduct a topographical survey of your site operated by a professional(s) that would cost between £350 to £500.
Tradesmen Costs for New House Construction
We've examined the price of building materials used in building a house. Now, let's look more closely at the labor costs involved. We'll also look at the labor cost variables during this part.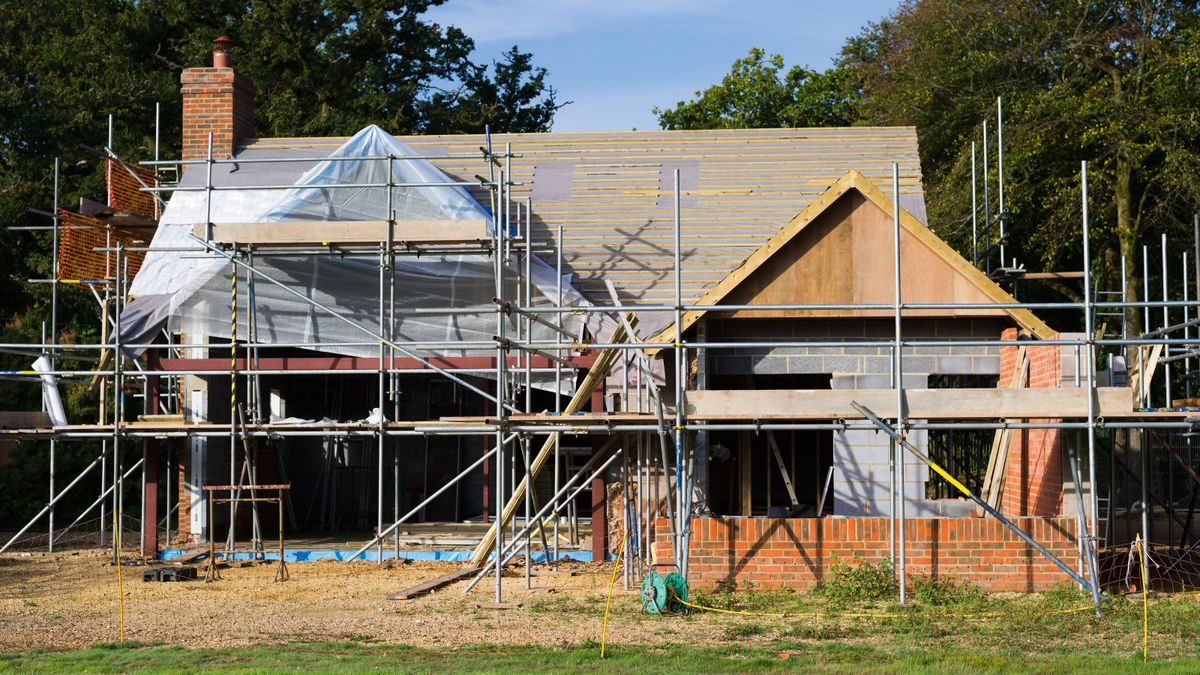 The cost of professional services for the building of the new home would be around £27,000 to £42,000 in a two-bedroom property, or around 
£36,000-£54,000 for a three-bedroom house as well as £43,000-£66,000 for a house with four bedrooms.
If you're looking to have a five-bedroom residence constructed, anticipate the price of the tradesperson to range from £48,000–£72,000, while the cost of labor for a bungalow is around £27,000–£83,000.
The labor cost can be affected by the amount of tradespeople employed and their accessibility, the condition of the area where work is performed, and the property's location.
How Long Does It Take to Build a New Home?
Let's now look at the timelines for building various sizes and types of homes. This article will also discuss the elements that affect the time needed to construct a new home.
It can take between 16 and 18 weeks to construct a two-bedroom home, 19-21 weeks for a three-bedroom home, 23-25 weeks to Build an Apartment with four bedrooms, or 25-27 weeks for five-bedroom houses.
If you are building a bungalow, it could take from 17-28 weeks for construction. The main factors determining the time it takes to create a new home are:
The accessibility.

The condition of the area.

The number of laborers involved in the construction.
Types of Property
In this section, we'll go over the leading choices when selecting a property type to Build the Construction of a New Home construction. We'll examine the features of these choices, their pros and pros, and the average cost.
House Cost
When considering the most popular options to build a new home, The most straightforward alternative is to create an actual house instead of a bungalow. The cost of a new home construction may differ widely based on the number of bedrooms and size.
Buying a house gives you more space over a bungalow and more security. However, they can't be considered private and are more challenging to modify. If you plan to build a new house, costs may be as low as £167,000 up to £537,000.
Pros:
Additional floor

Perhaps more security
Cons:
Not as private

More difficult to modify
Bungalow Cost
If you want a bungalow, a single-story structure is typically smaller than a typical home in its total area. But, this is only sometimes the case, depending on its size.
Bungalows may provide better privacy. They generally offer a higher value which is higher. They are also simpler to alter and are generally more private. However, bungalows have a lower value per square meter than houses, and they need more time to plan an outline.
The price to build a bungalow is likely to range between £184,500 to £563,000.
Pros:
The tendency is to be more affordable in the long run.

They usually have a higher value

Easy to alter

Privacy
Cons:
A more difficult layout plan

Lower cost per m2
Benefits of a New House Build
There are many benefits to building a new home. Let's take a review of the top examples.
Affordability
The most apparent advantage of constructing a new home worth looking into is that it's cheaper overall than purchasing a previously built home. With a set price, the deposit is just five percent.
The Help to Buy Scheme makes it easier for individuals to construct a new home. The scheme is available across the UK with the exclusion of Northern Ireland.
Personal Touch
Since you're having your house constructed, it can be customized to suit your personal preferences. Although you'll require an architect or professional designer to draw the plan for your new home, You can also bring your personal preferences to life through your input.
Energy Efficient
As the new home construction will be constructed using the most modern construction methods, most of the time, in most cases, insulation and efficiency are extensively integrated after purchasing the newly built home.
It is also more eco-friendly and can lower your energy bill. If this is an essential aspect, discuss it with your construction company beforehand.
How Much Does It Cost to Demolish a Home?
It is possible to demolish your home due to its safety or because it's expensive to make it a viable renovation or construct a new construction on your land as a substitute for the house.
The cost for removal of a home is between £6000 to £8000 for a property of 80-120m2, roughly £8,000-£12,000 for a house that is between 120m2 and 200m2, or about £12,000-£15,000 if it is between 200m2 and 250m2.