How Much Does a Garden Office Cost?
Garden offices are more popular than ever before, however, before you make the decision to construct offices in your back garden, it is important to be aware of how much it will cost you.
So, how much would an office in the garden cost?
Garden office cost is determined by size, location and other specifications as with every other building.
For a low-cost garden office that's already built you can expect to spend between £1,000 to £2000. The models are accessible on the internet, and a majority of garden centers have them on display. The difference in quality between the two options is evident.
A garden office that is purpose-built costs approximately £9000 between £10,000 on an average. This type of office comes with a predetermined plan with the elements delivered ready to put together.
If you want a custom garden office, you could employ an architect to design your structure specifically for your space with a construction team that will source the necessary materials. This can increase the cost that you pay for your outdoor office however, you'll be able to customize it to meet your specific requirements.
A brick-built garden office can cost you between £23,000 to £25,000. It could be an alternative if there is the space and are willing to undergo the process of requesting permission for planning. The advantage of this style is that it could be transformed to a separate, self-contained residence at any time.
It is also important to consider the size of your garden office. For instance, a small garden office may cost between £5,000 and £20,000 however, a medium or large garden office will range from £12,000 to £20,000, contingent on the standard of the building and custom features.
Are there other costs that should be considered?
If you receive a construction estimate from a contractor or a builder be sure to ask about the cost of foundations that may be required.
It is also possible to inquire about the costs of drainage and plumbing for the toilet or shower in the event that one is included. Toilets usually add between £1,000 to £2,000 to the total cost, whereas shower rooms can run as high as £3000.
Some companies also offer painting and construction services, however, these are usually at an additional cost.
The cost of a garden area will vary based on the location you reside in. In the case of London, for instance. The price of a completed and installed garden space in London begins at around £15,000 to £16,000 rupees.
A complete and installed solution in an area like the North typically costs between £12,000 to £16,000 based on the style and materials employed.
Garden Office Prices
For you to get an idea of costs involved, here's an overview of the typical cost of building an office in the garden.
| | |
| --- | --- |
| Garden Office | Average Cost |
| A good build that is still off the shelf | £1,000-£2,000 |
| A purpose-built garden office | £9,000-£10,000 |
| Made with bricks garden office | £23,000 – £25,000 |
| Small garden office | £5,000-£20,000 |
| Medium/big garden office | £12,000-£20,000 |
| Garden office with toilet | Added £1,000-£2,000 |
What are the Supply Costs of Building a Garden Office?
If you're looking to construct a garden area by yourself, you'll need to think about the costs of building.
The cost of the supply for an office in the garden will usually include the cost of foundations. However, they could be included in the total cost of the garden room.
Gardens offices in many instances, don't have the foundations as houses. The preparation of the foundation of a concrete slab is the most typical method. It is estimated to cost between £1500-£1800 for a smaller concrete slab base of approximately 2m by 2m subject to the conditions of the ground and accessibility, and the cost will increase with the increase in size.
Another popular alternative is to use ground screws. They are put down to the appropriate depth in the dirt, and used as a foundation for the frame of the room. They're particularly useful when the ground isn't level and also are less prone to damage over the long term than foundations made of concrete.
Depending on the size of the structure being constructed an earth screw system could cost between £2,000 to £2,500.
When you are looking to purchase an outdoor space there are a variety of factors to think about:
The structure's size
No matter if you opt for an individualized or modular design, you'll be grateful you chose to do so
The construction method you choose is of high-quality SIPS or timber frames
The finish you choose such as cedar cladding or plastered interiors for example will affect the cost of your home.
Bi-fold doors as well as air conditioning are two of the design elements that can increase the cost.
Additional Costs of Garden Office Construction?
If you wish for the office in your backyard to look extravagant, you should be prepared for the costs of your office space to grow.
If, for instance, you would like it decorated and painted it will result in having to pay more for a contractor to finish the job.
Here are a few of most frequently encountered additional costs associated with building a garden office:
Electrics
It's necessary to set up electrical connections such as the lighting system and power plugs. The installation can happen at the time of construction, but most modern garden offices include built-in outlets and lighting fixtures, which means you'll only have to connect the electrical systems of your home.
The installation of the cabling and making sure that it is secure will require the help of a skilled electrician. In a typical-sized yard the cost of installation is between £600 to £1,000.
The final price is determined by the amount of time required to install electrical installations.
Insulation
If you intend to spend long hours in your office space it is important to make sure that it's at a pleasant temperature regardless of the weather.
The insulation is often included in the most expensive garden rooms built from wood frame or modular design. The quality of insulation will impact the price of the product. Manufacturers will try to find insulation that is similar to that used in homes.
Materials and installation of wall insulation is likely to cost between £1,000 and £1,500 depending on the dimensions of the space.
Installation typically takes 1 to 2 hours to set up the installation switches.
Windows and Doors
The style of doors and windows that are used in your garden can vary, ranging from cheaper uPVC frames, to the more costly hardwoods.
Wall-to-ceiling windows which cover the entire width of the room and bifold doors that open up an entire room to let outside air in are very well-liked. They can raise the total cost by as much as £2,000 to £3,000.
Painting and Decorating
When you're redecorating, be aware of the cost of the painting of your interior for different tasks.
The cost of painting a room can be anything from £180 to paint a tiny space as well as £500 for a big room.
It is important to consider the cost of painting or embellishing other fixtures, for example skirting boards, which cost between £180 to £350 as well as window paint, that is priced from £400 up to £1500.
Other options include painting doors, which cost approximately £220 to £1600 and repainting kitchen cabinets that generally ranges between £600 up to £1000.
Wallpapering is a significant decorating expense. It costs around £180 in a modest area and £600 to take down and hang wallpaper, the internal cladding cost is somewhere between £1500 up to £2500.
Since most tradespeople charge for their work, knowing the length of the task will be crucial.
If you're just having one small area painted, it's likely to take about a day to finish. If you require the wall or painting to be removed you'll have to extend the time. If you'd like a tradesperson to take away and replace any furniture, it may take between three and four days.
New Floor Installation
The typical cost of flooring installation ranges from £400 or £1000 in the majority of cases.
The cost for getting new flooring installed, on the contrary, will differ according to the kind of flooring you want and the dimensions of the space. For a brand new flooring installation, it typically takes between 1 and 2 days for a solid wooden floor to be put in.
The table below break down the extra expenses for a garden office:
| | |
| --- | --- |
| Job | Average Cost |
| Average sized garden office electrics | £600 – £1,000 |
| Installation | £1,000 – £1,500 |
| Windows and doors | £2,000 – £3,000 |
| Painting | £180 – £1,600 |
| Wallpapering | £600 – £2,500 |
| New floor installation | £400 – £1,000 |
Tradesmen Costs for Building a Garden Office
The cost of employing tradespeople to build an office garden can cost about £170 up to £190 per day, on an average. This is assuming that a team of workers will be present to construct an outbuilding. But, based on the type of labourers hired as well as other aspects, labour costs can be around £1000 every day.
The price of labour can range between £275 up to £325. The number of workers employed on your project, length of the work, the ease of access, the condition of the work area, as well as your location within the UK are just a few of the factors which affect labour costs.
| | |
| --- | --- |
| Job | Average Cost |
| Daily labour costs | £170 – £190 |
| Overall labour costs | £1,000 |
| Average labour costs | £275 – £325 |
How Long Does It Take to Build a Garden Office?
The development of a garden office is among the most efficient methods of construction that are available. The result is that your new office could be built within a few days.
The majority of garden office providers will arrange the construction of your office in the time between placing your order and the date of delivery. The garden office is typically composed of a number of smaller components that could be constructed on-site.
Some garden office companies have large workshops equipped with top-of-the-line equipment, which allows them to construct the office structure. Other companies purchase the necessary components from various vendors and oversee the process to ensure that everything is done on site.
Once the construction team arrives there, the work in your office will begin right away. Construction teams that are on-site typically comprise between two and four individuals. The size of the team is usually determined by the dimension as well as the complexity of a construction. Other tradespeople might be involved during the construction process, when additional skills are required, like the electrician and plasterers.
It's important to remember that if you decide to plaster or use our acoustic packs, the process could take a couple of weeks longer in order for the plaster to set. The construction process is not long, and the planning process is not too long. There are a variety of timeframes for building the garden offices you want to have.
Duration of Building a Garden Office
Some companies have perfected their methods and finished the majority of the construction in their workshop prior to arriving on site. They can construct the structure within a single day.
Modular small to medium garden office usually requires 2 days to build. In general, gardening office construction projects take seven to 10 days to complete on site.
There are other factors that can affect the duration like painting, rewiring, and so on. The table below outlines the typical timescales for the various tasks that are required to build the garden office.
| | |
| --- | --- |
| Job | Duration |
| Building a Garden Office | 2 10 days |
| Decorating and painting | 1 4 days |
| Electricity | Twenty minutes to 2 days |
| New flooring | 3 hours 4 days |
| Doors and windows | 1 hour to 4 hours |
Types of Garden Office Cladding
The price of creating a garden office will depend on the type of cladding material that is used.
A quality exterior cladding for an office in the garden will not just ensure that the structure is dry, but it will also guard against insects, rot and fungal attacks. It is immune to UV rays, too. Protecting against these hazards will lead to an appearance that lasts longer and needs less maintenance.
Certain cladding materials are naturally immune to the risks mentioned above. Other materials, on the other hand, can be secured.
Here are a few of the most well-known alternatives for cladding a garden office:
Pine Cladding Cost
The fast-growing pine cladding, that has a honey colour as it is in natural condition, is an low-cost timber cladding used for gardens offices. It is easy to use and is suitable to create a range of cladding designs.
The cladding of pine requires UV protection, in addition to protection against insects, rot and fungal attacks. It's not a long-lasting cladding when it is in its natural state.
The price of pine cladding ranges from £1 to £28 for a board.
Pros:
It is easy to work with
Cheapest option
Cons:
Doesn't last as long as the others.
Thermowood Cladding Cost
The heat treatment, also known as Thermowood, is a different preservation method for pine wood cladding. The wood is cooked to very high temperatures during this process that preserves it.
Garden offices equipped with the cladding that is heat treated are often not completed. They can take them with ease and fade to a silvery colour as time passes. Thermowood weathering is more stable than the untreated pine weathering.
Many gardens with wood sidings are painted that not only wards off moisture but also gives an even shade. The knots and grain in softwood panelling may be 'busy' for certain individuals, and the opaque coating of paint obscures the knots.
Thermowood is generally sold per linear metre instead of sq m. Thermowood cladding costs range between £2.24 and up £7.85 per linear metres.
Pros:
Cons:
It is difficult to complete the task
Cedar Cladding Cost
In the case of the cladding for garden offices Western red cedar is the most sought-after option. It is an extremely stable and dimensionally stable wood that has natural resistance to fungus and insects and, in the majority of cases, it does not require decorative treatment.
Cedar starts out as a reddish-brown colour, but as time passes and proper exposure transforms to a silver- colour. Although the silver appears great, it has an entirely different look in comparison to the new design.
If you opt to apply an oil that shields against UV rays in the design phase You can maintain your natural colour. This must be completed before the wooden structure is exposed.
The prices for cladding made of cedar begin at £31.50 per m2 and rise all the way to £62.90 per square meter to face fixed 18x144mm profiles.
Pros:
Beautifully aesthetic
It is easy to maintain the natural redness of your skin if you like it.
Cons:
The most expensive alternative
Siberian Larch Cladding Cost
The inherent strength that is the hallmark of Siberian Larch makes it an excellent option for cladding your garden office. This is due to the resins present in the wood, making it rot – and fungus- resistant. Larch can turn a silver-grey colour when left untreated. The knots that are obvious in the sheathings of larch add an interesting character to the structure.
Siberian Larch is commonly used for cladding in garden offices and is a popular choice, however Scottish Larch is a better alternative if you're looking for something that is grown and procured from the UK.
If you're building an eco-friendly office space This is an especially attractive option because it has less carbon footprint than other options for cladding.
Cladding made from Siberian Larch costs around £50 per square meter.
Pros:
A popular option
Resistance to fungus and rot
Cons:
Exterior Grade MDF Cost
Certain businesses utilize outside grade MDF products to create their buildings' cladding. Some people think that MDF is a product for interior use which is not strong enough to withstand the abuse of outdoor usage. But, due to the resins used in its manufacturing exterior grade MDF is extremely durable.
MDF is a fantastic material for cladding since it is available in large sheets that have a few joints. Even though the unfinished exterior grade MDF is green in colour and a smooth surface, it is ideal for painting finishes.
External grade MDF sheets are priced between £20 to £40 per meter.
Pros:
Cons:
Benefits of a Garden Office
In the last year working at home has become the standard. With the construction of an office in your garden it is possible to make the ideal work space which is close to the comforts of your home.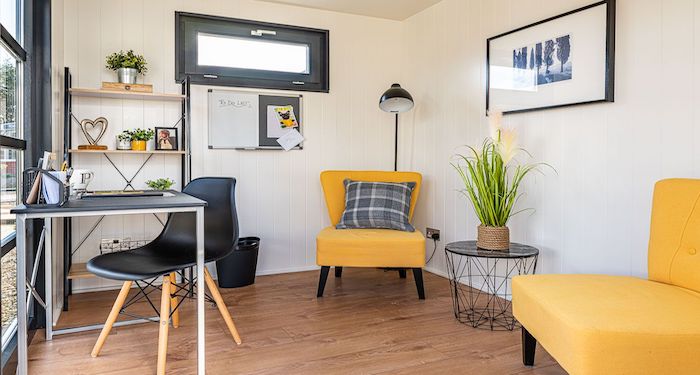 There is a variety of advantages for constructing an office in the garden, such as:
No Daily Commute
Your commute time will be significantly reduced if you install your office in your backyard. There won't be any early mornings that are a struggle to beat rush hour traffic, or public transport where you are unable to locate an empty seat.
A short stroll from your backdoor to your office in the garden will let you start your day with a relaxed and unhurried attitude and not forgetting the savings in money.
No More 9 – 5
There's no need to worry about the time when you need to be at work by 9am and won't go home until five. The convenience of having an office outside in your yard lets you work at the times that work best for you.
You'll be able to do what you have to do during your working hours without having to follow the set time limits of offices for business when you've got the right attitude.
Far from the city
If you're in a city there is a lot of hustle and bustle of the city's bustling environment could influence your work habits and isn't suitable for all. If you work from your backyard office, you might discover that the tranquil and serene atmosphere improves your productivity.
Create your own Workspace
Another benefit of working in an office in your backyard is having the ability to design the workspace that best suits your requirements. You can choose your chair, desk, and even the temperature in your office are just a few benefits of owning an outdoor work space.
Balance Home and Work-Life
It isn't easy to find the right balance between work and home life, however working from your garden might be the ideal solution. If you build a garden office, it will guarantee that you have better time management and you are able to enjoy activities outside of work.
The garden office allows you to have more breaks or watch your child's performance at school or cook dinner for the family, all while working.
Increases Property Value
It is not just having a garden office beneficial to your daily life, but adding extras to your home like having a garden office, could boost property value by as much as 7 percent when you're moving and selling.
A purchase of an outdoor structure may be a viable source of income when you make the decision to move and, therefore, it's something to consider.
How Much Does It Cost to Remove a Garden Office?
The cost of the removal of a garden office ranges between £ to ££. The price will obviously depend on the building's dimensions and style and also the structure and shape.
Because certain materials are simpler to take apart and disassemble in comparison to others, it can affect the cost to take them off.
FAQs
Q: How do you get Wi-Fi in a garden office?
A: A Wi-Fi extender is a simple piece of technology that connects to your existing Wi-Fi network and expands the signal. The router and extension work together to bridge the space between your home's primary router and your garden office building.
To establish a strong and steady connection in all the surrounding regions, plug the extender into a mains socket in your home. It's ideal to find a spot halfway between the router and the garden office.
Q: How do you convert a garden outhouse into an office?
A:
To begin, start thinking about how you want your office to look. Make two lists: one explaining what you'll do with your workplace (uses) and the other outlining what those uses will necessitate (requirements)
Plan the layout of your office, experimenting with different configurations to fit all your requirements into the available area
Check the condition of your current shed, as well as the location you've picked, to determine if any maintenance issues need to be addressed before the conversion begins
Once the shed is ready, begin the conversion by thoroughly damp proofing it
Install insulation in the shed's floors, ceiling, and walls
Install electricity in the shed, either from the mains or from a generator (wind or solar)
Install the lighting of your choice (lamps, fluorescents, halogen or LED lights)
Install heating that is standalone, wall-mounted, or underfloor.
Tethering, Wi-Fi, or a powerline adaptor can all be used to connect your shed to the internet
Install a water butt and guttering system or run water from the mains to your shed
Make sure your shed's contents are safe
Decorate your workspace to suit your preferences
Q: Do you need planning permission to build a garden office?
A: Most of the time, you won't need planning permission for your garden office. You can extend your property without obtaining planning permission or building regulations approval, so you can swiftly and cost-effectively install your garden office, saving money, time, and stress.
Q: How much space do you need for a garden office?
A: If possible, your garden office or garden room should have at least 18″ of free space on all sides. This allows for quick installation as well as future maintenance. In practice, this is rarely feasible, and it is not required at many places. On one or both sides, a reduced clearance is frequently attainable.
Q: Do garden offices last?
A: Garden offices are built to last for decades with minimal annual upkeep. External finishes are chosen for their long life expectancy; roof coverings and claddings are expected to last 25 years or more.