What's the best thing about vinyl flooring?
Vinyl flooring is great for bathrooms and kitchens because of its waterproof qualities and its resistance to dampness and spills.
The cost for setting up vinyl flooring for a medium-sized space is between £200 and £400 and the exact cost depends on various cost-affecting aspects.
Floor Vinyl Prices
To give you an idea of how these two styles are priced, take a an examination of the following table:
| | | | |
| --- | --- | --- | --- |
| Vinyl Flooring | Room Size | Duration | Average Cost |
| Vinyl Roll Low End | 12 Square Metres | 1 to 2 Days | £210-£330 |
| Vinyl Roll Low End | 20 Square Metres | 1 to 2 Days | £250-£450 |
| Vinyl Roll-High End | 12 Square Metres | 1 to 2 Days | £330-£450 |
| Vinyl Roll-High End | 20 Square Metres | 1 to 2 Days | £450-£650 |
| LVT Low End | 12 Square Metres | 1-Day | £330-£510 |
| LVT Low End | 20 Square Metres | 1-Day | £450-£750 |
| LVT High End | 12 Square Metres | 1 to 2 Days | £510-£870 |
| LVT High End | 20 Square Metres | 1 to 2 Days | £750-£1350 |
What is the cost of supply of a Vinyl flooring installation?
Many people look for the material to make their flooring rather than having the installer buy the materials for them.
Naturally, the installer will be more than happy to source the material but they'll have less time to search to find the most affordable deals and prices and you're more likely to find a better price by taking the time to look for the items yourself.
It also offers an opportunity to experience your flooring up close, since styles and colours can look very different in person than they appear online or in a catalogue.
There are some styles of vinyl available, they can have various styles and textures. product, which is why it's important to look up the product before you commit to buying it and putting it at home.
We've previously shown the cost average of installing vinyl flooring in various areas however, to show the costs of supply only we have a second table.
Vinyl Flooring Costs
| | | |
| --- | --- | --- |
| Vinyl Flooring | Room Size | Average Cost |
| Vinyl Roll Low End | 1 Square Metre | £5-£15 |
| Vinyl Roll High-End | 1 Square Metre | £15-£25 |
| LVT Low Value | 1 Square Metre | £15-£30 |
| LVT High End | 1 Square Metre | £30-£60 |
It is evident from the table, top-quality vinyl tiles are much more expensive than the lower-end and vinyl rolls.
LVT really is a top-quality flooring material and, if you can afford it It is definitely worth looking into. Even cheap vinyl rolls look stunning in the right way if it's installed correctly.
What are the additional costs for laying Vinyl Flooring?
There are many other tasks that are closely connected to installing new flooring made from vinyl that are typically completed in the same way.
It's not a requirement but should you have the money or planned to complete these tasks in the near future, it could be beneficial to do them in conjunction with an installation of vinyl flooring.
New Kitchen Units
Kitchens with modern appliances are the ultimate in luxury. No one remodels their kitchen every couple of years So you must ensure that your kitchen will be able to withstand the test for the coming five years or longer in the event that you remodel it.
But, if your kitchen is in need of an upgrade then you can get a new set of cabinets put in place at the same time while your flooring is being put in.
In the present you'll pay between £4,000 to £6,000 for the kitchen you want to buy, however it's contingent on the type of material you pick, the dimensions of your kitchen as well as what's included in the cost.
It is possible to negotiate a lower price when you have your flooring completed in the same manner. To receive a fair estimate ask an experienced kitchen fitter about the flooring you're looking for and they'll be able to give you an exact estimate of the amount you'll have to shell out and if there are discounts for having your flooring completed.
Bathroom Sets
Like new bathrooms, kitchens tend to remain in place for decades or more which is why having a brand new bathroom is a major luxury, but one that isn't going to be overlooked.
A bathroom remodel is more expensive than a kitchen. The cost of a new kitchen can range between £2,000 and £7,500 depending on whether you go for expensive marbles or less expensive plastics for the task.
There are some great savings to be had when you combine a brand new bathroom design with a new flooring installation.
Contact a couple of different bathroom fitting professionals to get a clear estimation of how much you'll need to spend within your budget to have an entirely new bathroom built and then see if you are able to make your bathroom look brand new in just a few hours.
Repairs
In the quote or installation stage, the installer may identify areas that require repair prior to the work being completed. For instance, if the flooring was damaged in the removal of floors, they might need to repair the holes in order so that it is level enough for vinyl to be laid on.
Repairs that are small and inexpensive like this one could occur in the course of work, but the bigger problems will be addressed during the initial quote So it shouldn't come as major unexpected surprises.
Tradesmen Costs for the Installation of Vinyl Flooring
We've already covered the costs of the supplies and any additional costs that might arise and there's only one thing left is the pricing aspect for fitters' costs.
The cost for a fitter ranges in the range of £150 to £200 per day. But it all depends on a number of cost-defining elements.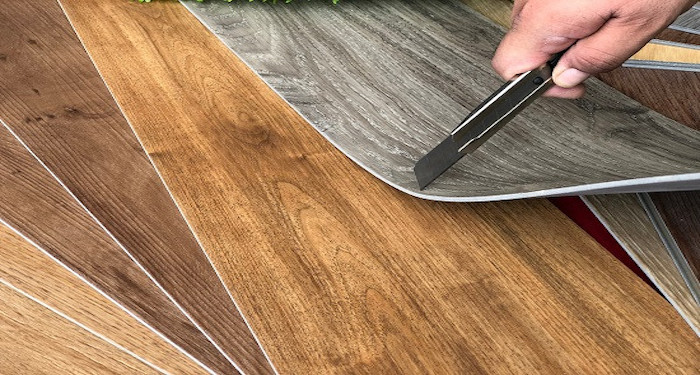 In the first place, you'd pay less when you hire the fitter for longer days to complete other projects such as kitchens or bathrooms, as you'd pay higher-priced weekly rates.
Also, you'll pay a different cost based on where in the country you're. As we've mentioned before, tradespeople will cost more in London and similar cities than in villages and towns due to the high cost of living.
Talk to some fitters before committing the job to one of them, to ensure you're getting the most competitive cost for the area and the work.
How long does it take to lay Vinyl Flooring?
The average installation of vinyl flooring takes about a day for areas of 12 square metres or less and one and half to two days for anything larger.
Of course, there are a number of factors that may alter the timings. For example, if you're interested in vinyl flooring that fits into a room with a variety of cut-outs and contours There will be more space to determine the dimensions of the space.
Also in the event that any of the issues mentioned in the previous paragraphs arise during the work, this can delay certain steps and increase the time required for the entire job.
We talked earlier about the various types of vinyl flooring you could obtain, with respect to techniques of installation, such as panels and glue down.
These panels are now much easier to put together, since they snap together easily after the baseboards are fixed and screwed.
When glue is dripping, it takes longer; each piece of vinyl has to be laid with care and smoothed to ensure that there aren't any air pockets or bumps.
It's also more difficult to apply glue straight, as panels are made with an exact straight edge.
Different types of vinyl flooring
There are two kinds of vinyl flooring: vinyl roll. Incredibly, both have the same advantages but the main distinction being the quality of products and style guidelines for each.
We'll go over each one in a bit more detail in this article.
Vinyl Roll Flooring Price
Vinyl roll is available as continuous and complete vinyl flooring sheets. They come with the sole method of installing glue down.
The sheets are long and continuous, making it simpler to design patterns on as well as being impervious to water since it has no gaps.
This allows the manufacturers of the vinyl rolls to maintain their cost down, which makes it an extremely cost-effective choice for those who want vinyl flooring but not on a large budget.
The cost of a vinyl roll differs from £5 for a square metre up to £25 per square metre. It is available in a wide range of shades, styles as well as colours and effects.
LVT Flooring Cost
The idea behind luxury vinyl tile was to serve as a premium alternative to the vinyl roll. Instead of continuous sheets it's made in plank form or as soft or flexible tiles.
It is less waterproof than vinyl rolls but it gives an upscale appearance.
The cost ranges between £15 up to £60 for a square metre; that's a massive difference and yet the less expensive LVT remains stunningly premium.
LVT, like vinyl rolls, is available in a myriad of designs and styles including companies such as Karndean offering premium LVT.
The Benefits of vinyl flooring
One of the most well-known benefits of vinyl flooring of any kind is the fact that it's affordable. Even high-end vinyl flooring isn't too expensive, making it accessible to everyone who is looking for their house to get a brand new look without spending a fortune to do it.
Vinyl flooring is available in designs that are reminiscent of stone and wood and are popular flooring materials that are expensive, and vinyl provides the same aesthetics but at a less cost.
Durability
Vinyl flooring is extremely long-lasting and even the cheapest vinyl roll is much more durable than the more expensive LVT flooring.
In any case, both types are able to withstand lots of foot traffic with no alteration in the style or strength of the floor.
It's also water-proof, which makes it an ideal choice for bathrooms and kitchens.
Maintenance is easy
Certain floors require continual polishing, scrubbing and cleaning with specific cleaning products however, the reverse is not the case with vinyl flooring.
Naturally, in order to ensure your floor looks the best, you'll have to sweep or mark the floor once every week, but it's not much when compared to other flooring materials.
It lets you relax and take advantage of your new flooring without having to think about the amount of work it'll create for you in the future.
Repairs
The installation of vinyl rolls does make repairs difficult since the entire strip needs to be replaced.
Buying vinyl planks and tiles are different, since tile replacement is inexpensive and can be accomplished quickly and without interruption to the rest of the flooring.
This will ensure that you won't find yourself in the middle of a damaged or scratched tile. And if you have the tiles you've left after the project, then you'll be able to have a quick replacement on the shelf.
Fast Installation
When compared to other flooring options Vinyl flooring is extremely simple to install, using either the plank or glue down method. Professionals will be patient to ensure that there are no errors made.
However, overall the majority of installations are completed in one day, which is extremely convenient for causing as little disruption as is possible for your family.
Comfort
Flooring made of wood and stone can be difficult to stroll on at times, particularly in the early morning hours of winter However, vinyl flooring is generally extremely warm and comfortable underfoot.
You can still enjoy the stone or wood effect for decoration, but with no discomfort from cold or hard flooring negatives.
What is the cost to remove vinyl tiles?
The removal of vinyl tiles is a fairly simple and fast task, and most important of all, the removal of waste is much simpler than ceramic or solid stone tiles.
You could try to take off the old flooring yourself but it's better to hire a professional to do it so that you don't harm the flooring underneath.
The cost will range from £80 to £130 for having your old flooring taken away, and the majority of the time, disposal of waste will be included. If not then you shouldn't have any trouble loading it into the rear of your vehicle and bringing it to the local rubbish center.
In the event that you do not have this choice, you can hire a skip at an amount of £120 or £300 depending upon the dimensions of your skip and the length you'll need it for or you can opt to use a local garbage collection service.
The cost for the services varies greatly based on the region and the location, so make sure to ask around for some estimates.
FAQs
Q: Can I install vinyl flooring myself?
A: We always suggest that you enlist the help of a professional to install your flooring for you, no matter how straightforward it seems.
It's actually pretty easy to install vinyl flooring wrong if you haven't done it before, so we wouldn't suggest any DIY vinyl flooring installation.
The last thing you want to do is waste £600 worth of LVT because the design has a mistake in it.
Q: What is Karndean flooring?
A: Karndean is one of the most popular LVT flooring suppliers, and they have several ranges that suit different budgets.
Their LVT styles, designs and effects are industry-leading, and therefore a lot of people will choose Karndean flooring over any other. You can purchase Karndean flooring at many different vinyl flooring stores.
Q: Does vinyl flooring rip easily?
A: Vinyl flooring is made from a very durable material, so it shouldn't rip too easily at all. However, it isn't invincible, so it is possible to rip a vinyl tile or sheet.
As a general rule of thumb, the cheaper the vinyl flooring is, the thinner it is likely to be, which would increase the chances of a rip.
Q: What is the best cleaner for vinyl flooring?
A: The best cleaner for vinyl flooring tends to be natural products like citric acid or apple cider vinegar.
The acidity goes a long way to remove any stuck-on grime or dirt and can give your flooring a wonderfully gleaming look.
Q: Can I mop vinyl flooring?
A: Yes, you can mop, or steam clean your vinyl flooring, and in fact, it's the preferred method to keep your flooring clean and up to standard.